Ok… I've had enough. DON'T BUY POCKET CHANGE DIAPERS!!! I've given them the benefits of the doubt, been nice and understanding but the quality of materials are completely awful.
Continuing on my saga…. I recieved my exchanged diapers back in August and barely used them and VOILA the green one has now lost its elastic in the back. So within 2 months of being barely used they are failing again. This is completely unacceptable. Here is a pic of the diaper…. its fleece is still nice and new and the front elastic is still plenty tight.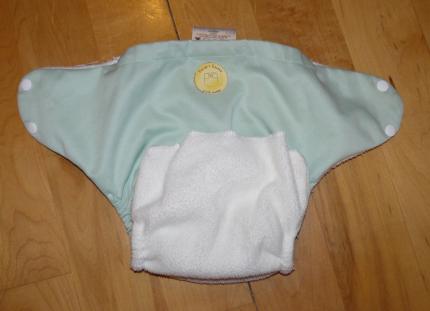 They are cheap for a reason and the only thing I like about them is the hemp insert which had some issues at the beginning (took many washes to become absorbent). I have now purchased some medium Fuzzi Bunz to make up the slack in my diaper stash. I do plan on using the hemp inserts from my pocket change diapers as inserts for my new Fuzzi Bunz.
Here is one Disappointed Customer. Thanks Montana's Diaper Store and The Natural Baby Company for nothing… you're diapers are a waste of money.
To read more about my experience with these diapers.. check out more of MY BLOG!